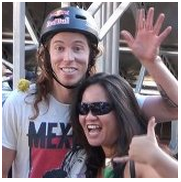 San Diego, California (PRWEB) April 21, 2013
Nucleus Footwear of San Diego, America's first specialty Freestyle Footbag shoe brand, celebrates their 4th Birthday this week, an especially important milestone for a small, independent athletic shoe company who's been able to survive amongst the giants," says Winnie Peng of Shoe-Manufacturer.com.
Peng continues:
"Creating the Nucleus Footwear signature design began in 2008 and took over a year to develop because at each stage of the design transformation Nucleus founder, Queency Mateo, would have the shoe examined by different elite members of the international Freestyle Footbag community to get their feedback and suggestions for possible improvements.
Special attention was given to the exact size, shape and materials of the striking area of the shoe, not only to ensure the largest possible strike area, but for the greatest possible sensitivity as well.
Months of research went into developing the best balance of traction and spinning ability. The outsole pattern we finally chose was so effective, in fact, we also used it in the athletic shoes produced for the Australian naval cadets.
The final product is a great looking shoe with the best performance characteristics of any Freestyle Footbag shoe in the world.
Queency Mateo is to be congratulated on this 4th Birthday for combining her love of the sport with the dedication to produce the very best. The Nucleus Footwear Freestyle Footbag shoe is a real tribute to her and the elite players of the sport who contributed to its design.
About:
Winnie Peng is an expert in manufacturing in China and Senior Project Manager for China Product Sourcing and Marketing Ltd. (CPSM), fashion manufacturer and leading producer of footwear for independent designers and footwear importers around the world, Shoe-Manufacturer.com , and previously Senior Inspector of Quality Control and Corporate Compliance for Best Seller of Hong Kong, supplier of Europes largest fashion retail group, Best Seller. http://www.Shoe-Manufacturer.com
Contact:
Winnie Peng

email: winnie.chinaproduct(at)gmail(dot)com

Tel (USA) 1- 336-775-8615,