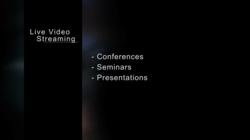 (PRWEB) April 29, 2013
Hollywood video production company, Seven Pictures, is making ground-breaking advancements in the corporate video production industry with the introduction of their live recording and streaming services. Available for large conferences, small seminars or multi-stream conventions, this complete solution allows businesses to unlock the full value of their conference, seminar, or presentation with live or on-demand broadcasts, and single or multi-camera setups, that stream directly to the web and mobile devices.
With years of expertise in live professional video production, Seven Pictures oversees the technical and creative process from beginning to end. Whether its a day-long conference, a convention spanning several days in multiple rooms, a vital meeting lasting a couple hours, or any other type of communication event, Seven Pictures provides experienced producers and crew that will handle the process every step of the way.
This is the most effective way to share information with a global audience, says Asbjorn Christiansen, Creative Director at Seven Pictures. Our producers handle our discreet, high-end recording equipment while our operators control the screen layout switching with perfect synchronization between the presenter and presentation to fully maintain the integrity of your meetings agenda while representing yourself in front of both on-site and offsite audiences.
Benefits include: