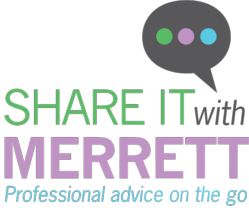 San Jose, CA (PRWEB) April 22, 2013
Merrett Sheridan, M.A., LMFT, quickly realized that traditional therapy wasnt the answer for the majority of people looking for quick answers and practical advice. Sheridans new ShareItWithMerrett.com service provides practical advice, answers and insight using 20-minute phone appointments at the low cost of $ 2 a minute.
Ive created a convenient and confidential way for people to approach and resolve day-to-day problems, says Merrett Sheridan, founder of ShareItWithMerrett.com. Wouldnt it be nice to have a licensed therapist available in a quick, convenient and confidential way from the comfort of your home?