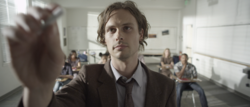 Los Angeles CA (PRWEB) March 22, 2013
New Media Film Festival is proud to announce early selections from USA, Singapore, Canada, Australia, Ireland, India, South Africa, Switzerland, Brazil & Finland.
Early Selections:

WEB SERIES: EVENT ZERO- EPISODE 7 -World Premiere

2012/Australia/03:46/Dir. Andrew Traucki

A paranoid Harriet thinks she is being chased by a man in a

suit- what is she hiding?
APP: FULL METAL JACKET DIARY – World Premiere

2012/USA/03:47/Matthew Modine and Adam Rackoff

During the two years Matthew Modine filmed Full Metal Jacket, he kept a detailed account of his entire experience with Stanley Kubrick, including a diary and photographs from behind-the-scenes. Full Metal Jacket Diary. Intended only as a collectors item, once these books sold out they were never seen again, until now. Working with artist and filmmaker Adam Rackoff, Modine creates an all-new interactive version of the book for the iPad that immerses you into the world of Kubrick and Full Metal Jacket. Besides the journal and photography, film enthusiasts will swim through the project, enjoying audio from Modine, sound effects, original music, and other never-before-seen images and content; really grasping the intensity of Kubrick and what he was all about as an artist.
ANIMATION: TRID AN STOIRM (Through The Storm)

2012/Ireland/07:35/Dir. Fred Burdy

A woman forces a Banshee to guide her to the Celtic realm of Death to

bring her husband back to life.
SHOT ON RED: 1)