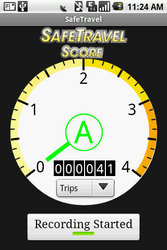 Westfield, , NJ (PRWEB) June 9, 2010
Aimed toward fostering communications between parents and Gen Y-Millennials, a trio of brothers – who themselves are parents – Chip, Dale and Antonio Fernandez launched the SafeTravel mobile app which employs location-based technology to monitor teen driving habits to display SafeTravel scores to them and their parents. It is now available for 99-cent download at the Android Market.
SafeTravel records the user's ability to keep their digital driving distractions at bay. It utilizes the phone's GPS capabilities to determine if the user is driving and simultaneously texting or talking on the phone. From logging this information, the application then calculates a SafeTravel score for that user.
"Our Android phone app allows the parent and their teenage driver to open up discussion about driver safety rather than just having a punitive outcome. Learning how to be responsible is part of becoming independent," said Chip Fernandez, creator and lead developer of the SafeTravel app.
He added, "While parents are accustomed to using technology for daily business activities, they can leverage this mobile application to engage with their teenage children while encouraging them to pay more attention to the road and drive more carefully."
According to the April 2010 report released by Pew Internet Research, half of teens send 50 or more text messages a day, or 1,500 texts a month, and one in three send more than 100 texts a day, or more than 3,000 texts a month.
SafeTravel is currently available only for Android phones.
About the SafeTravel App

SafeTravel is a paid mobile application available for one-time download via Android Market that provides a simple solution for parents to score and frame the discussion of safe driving habits to their teens. For more information, visit www.safetravelapp.com
# # #